Small Business, Big Impact: Dekayu, Bringing Indonesian Wood Craft Brand to the World Stage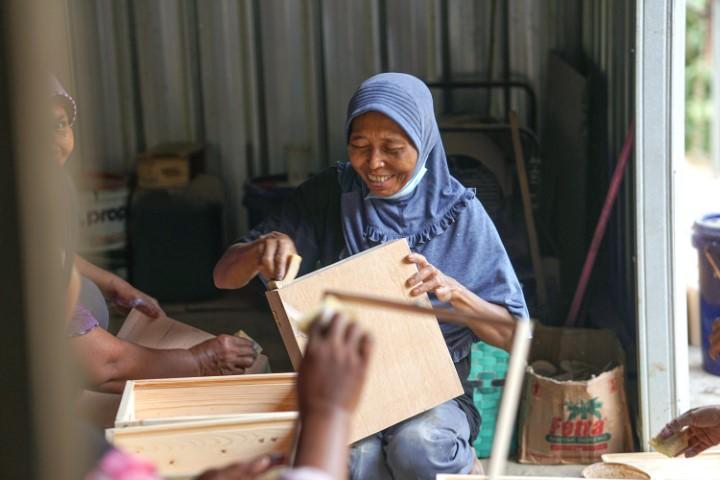 Anindita Sekar Jati
Jakarta, 11 October 2023
Dekayu is a local Indonesian brand that has been growing and evolving since 2017. It has been a strong supporter and partner to artisans working with wood across the country. Essentially, Dekayu is a fusion of wood craftsmanship and environmental consciousness.
The products crafted by Dekayu aren't just aesthetically pleasing; they also offer high functionality. From wooden tableware to kitchenware, bathroom accessories, and stationery, all their products are carefully designed with attention to detail. What sets Dekayu apart from many other brands is that their products can make for perfect gifts or hampers. It's a meaningful way to share the beauty of Indonesia's natural resources.
During the pandemic that has spanned the last couple of years, Dekayu has played a significant role in helping people find special and memorable gifts. They have become a popular one-stop shopping destination for gifts, hampers, souvenirs, and merchandise. Whether for individuals or companies and government entities, Dekayu has become a trusted partner.
One noteworthy aspect is Dekayu's commitment to conducting fair and transparent trade across their entire business. This fosters a balanced and mutually beneficial relationship between Dekayu, the artisans, employees, vendors, partners, and customers. This strong commitment to business ethics reflects long-term success.
Dekayu's wood products have undergone rigorous safety and hygiene processes. This is particularly relevant when the products are used in food-related environments. Dekayu's wood products, especially those used in hotels, restaurants, and cafes, are made from high-quality teak wood that has been coated with water-based biopolish. This ensures the products are safe for contact with food. The FDA certification they hold is proof that their products meet stringent food safety standards.
Dekayu is not just a business focused on products and services. They have also embarked on an incredible journey in supporting environmental sustainability. One exemplary aspect is their collaboration with Fairatmos to carry out carbon offset initiatives. Dekayu has made environmental sustainability an integral part of their mission.
Furthermore, Dekayu is actively involved in the development and promotion of Indonesian woodcraft on a global scale. They participate in various industry associations such as HIMKI & ASEPHI and attend various trade show events like JIFFINA, INACRAFT & IFEX, which are held annually. Dekayu is also a participant in the "Aku Siap Ekspor (ASE) 2021/2022" program organized by the Ministry of Industry, the Ministry of Trade, Kemenparekraf, BEDO, HIMKI, and Dekranas.
Dekayu isn't just targeting the local market; they are actively participating in various international exhibitions and business meetings. This includes their participation in "Java in Paris" at Le BHV Marais Paris in June-July 2022 and "Korea Import Fair-Trade with Fair Korea South" in June-July 2023. They also took part in the Indonesia Fair in Bangkok, Thailand in August 2023, and most recently engaged in business matching with the Lotte Group of South Korea.
Dekayu isn't just a woodcraft brand; they are a role model for integrating business with environmental sustainability. They empower local artisans, create high-quality products, and actively support environmental conservation. Dekayu is a living example that successful businesses can become agents of positive change in the journey towards a better world.
In conclusion, Dekayu has demonstrated that it is possible for a brand to thrive while upholding the values of environmental sustainability and fair trade. They have become a symbol of responsible business in Indonesia, fostering collaboration and growth while ensuring that the environment is respected and protected. With their commitment to carbon offset initiatives and their active participation in global events, Dekayu is on the path to becoming a global brand that not only offers beautiful products but also a powerful message of sustainability. As they continue to expand their presence both locally and internationally, their impact will undoubtedly extend beyond the realm of business, inspiring others to follow their path toward a more sustainable and responsible future.