Bringing Back Indonesia's Herbal Wisdom: Sekartaji Pawonstudio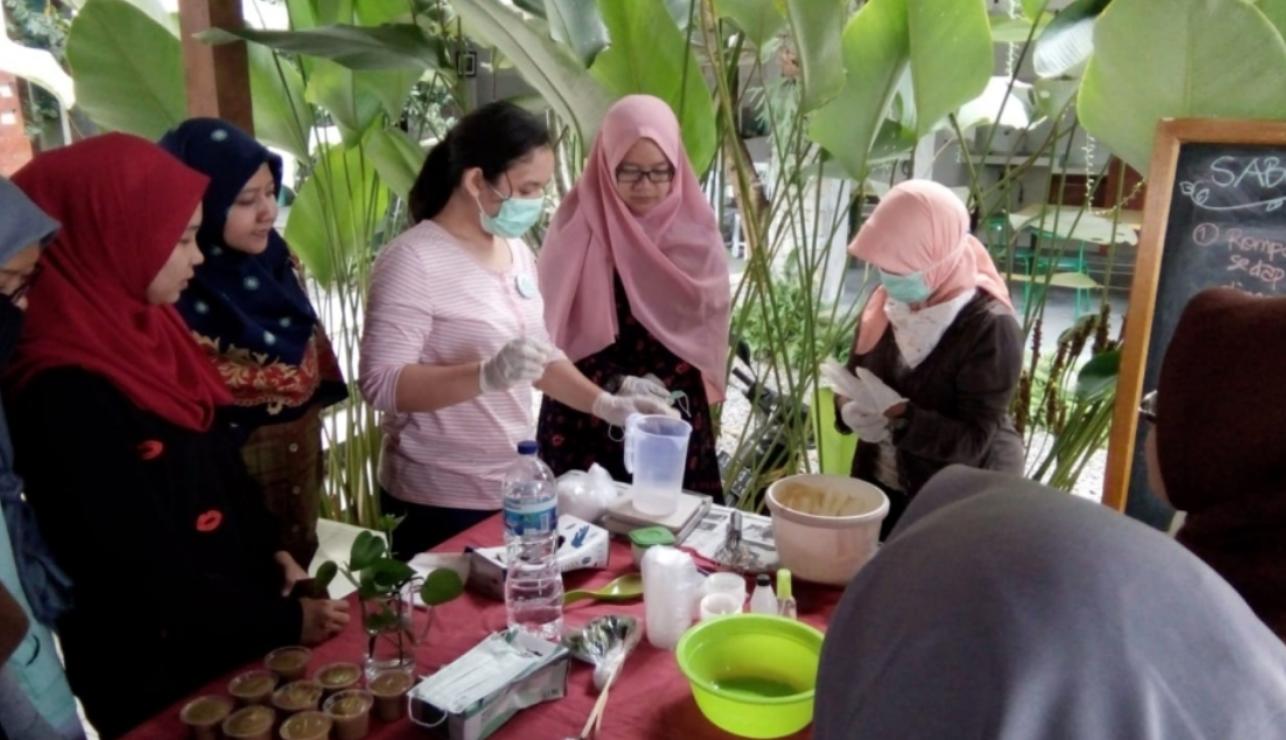 Anindita Sekar Jati
Jakarta, 02 November 2023
Blessings from nature start at home. This is the philosophy that underpins Sekartaji Pawonstudio, an initiative for family and household body care that places the processing of Indonesian herbs and produce at its core. Founded by Galuh Sekartaji in 2013, Sekartaji Pawonstudio carries the spirit of offering natural and traditional products that are not only beneficial for family health but also conscious of environmental preservation.
Since the days of her great-grandmother, the culture of herbal medicine had thrived in Galuh Sekartaji's family. Products like herbal tonics, hair oil, body scrub, and external remedies were integral to the family's health and beauty regimen. However, as time passed, this tradition gradually faded into memory. The valuable ancestral recipes were almost lost. Life took a turn, though, and when Galuh Sekartaji and her mother encountered various health issues, they retraced their steps.
Their belief was that the best medicine is what grows around us. The nearly forgotten ancestral recipes were brought back to life, adapted to modern circumstances. Galuh Sekartaji diligently studied and cared for these recipes, and with unwavering dedication, she began to develop skincare products to aid her mother's ailments. The result? Both of them healed, and the products of Sekartaji Pawonstudio started attracting the attention of many, including family and friends.
Through personal experiences and the loyalty of their product users, Sekartaji Pawonstudio grew and prospered. Their philosophy of finding the blessings of nature in one's own kitchen became a powerful foundation that guided every step of their product development. They prioritize the safety and comfort of users of all ages, and this is reflected in their production process. They rely not only on fresh ingredients that they grow themselves but also on locally sourced materials. More importantly, they do not use harmful chemicals in the production process, resulting in waste that does not harm the environment.
Sekartaji Pawonstudio not only takes from nature but is also committed to giving back to it. By developing products based on Indonesian herbs, they are participating in the preservation of Indonesia's rich biodiversity. Initiatives like this are crucial, especially in a modern era that often overlooks traditional values. In their efforts, Sekartaji Pawonstudio has become the guardian of Indonesia's natural and cultural heritage.
However, Sekartaji Pawonstudio's commitment doesn't stop here. They have also taken steps to reduce the environmental impact of their operations. One significant initiative they've taken is carbon offsetting. This initiative is a tangible demonstration of Sekartaji Pawonstudio's high commitment to environmental sustainability. By compensating for the carbon emissions generated during their production process, they are not only preserving Indonesia's environment but also contributing to the global effort to combat climate change.
Steps like these should be appreciated and emulated by other Small and Medium-sized Enterprises (SMEs). Sekartaji Pawonstudio is a prime example of how small businesses can have a significant positive impact. They are not only reviving the precious tradition of Indonesian herbal remedies but also striving to protect our fragile planet. They understand that our well-being is intricately linked to the well-being of our environment.
Furthermore, Sekartaji Pawonstudio inspires all of us to appreciate and harness the natural riches around us. In an era where many people seek quick-fix solutions in commercial products loaded with chemicals, Sekartaji Pawonstudio reminds us that nature has provided everything we need. The herbal medicine culture they have inherited is an invaluable treasure. We can start by discovering what grows around us and how we can wisely make use of it.
In an ever-changing world, initiatives like Sekartaji Pawonstudio bring hope. They prove that businesses can function as agents of positive change in society and the environment. They combine tradition and sustainability in a business model that inspires. Blessings from nature start at home, and Sekartaji Pawonstudio has demonstrated that we all have a crucial role in preserving it.